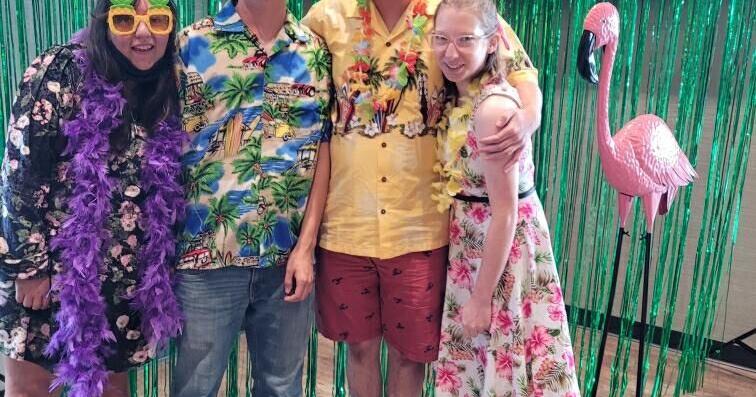 Rock Haus revelers find the groove | Community alert
"You can't get them off the dance floor," said Mary Helen Esqueda, chair of the Rock Haus Foundation Dance Party.
Whether the DJ is playing "Macarena," the chicken dance song, or George Strait's "Ocean Front Property," the feet are dancing and the crowds continue to swell every two months at a dance party at the Village Venue in Creekside.
Organized by the Rock Haus Foundation, the dance parties offer adults with special needs a place for socialization and entertainment. The mission of the Rock Haus Foundation, a 501(c)(3), is to support the improvement of opportunities and quality of life for adults with intellectual and developmental disabilities in Comal County.
The inaugural dance took place in February this year and the dance parties continue to grow in popularity.
Esqueda is chair of the dance party and secretary of the board of the Rock Haus Foundation. She and her 20-year-old son, Vincent Esqueda, were attending dances for adults with special needs in San Marcos.
"He has a dual diagnosis of Down syndrome as a primary and autism as a secondary. He really enjoyed the dances in San Marcos. With the growth of New Braunfels, I thought we really needed to bring the dances to New Braunfels," said Esqueda said.
Sponsors helped make the dances a reality.
Participants from Comal County and surrounding areas attend the dances with their families or caregivers, or sometimes attend solo or with dates.
Balloon arches and other decor welcome guests who are also invited to enjoy treats at the snack bar or fool around at the photo booth.
Each dance is a theme dance.
"Our last dance was Hawaiian luau themed," Esqueda said.
Whole families dressed in Hawaiian-themed clothing. Guests participated in a limbo contest and enjoyed party favors. About 200 attended.
"They love music and they love to dance," Esqueda explained.
The October 21 dance won't disappoint, as it will include a Halloween theme.
"Costumes are encouraged," Esqueda said.
In December, Rock Haus hopes to hold a banquet as part of the dance party.
"This group doesn't have much to do in our community. It's a few hours where they can let loose and have fun. You can just look at the joy in their eyes when they are at these dance parties. They're really looking forward to it," Esqueda said.
"It's one of the ways we provide opportunities and activities for this population," said Christine Pfaff, who serves as treasurer of the Rock Haus Foundation board. "They like to see each other regularly."
Rock Haus also hosts vendor tables at local resource events to provide information about their services for the special needs community.
Dance parties are open to adults 18 and older with special needs, their families and caregivers in and around Comal County.
The next dance party will be from 6:30-8:30 p.m. on October 21 at the Village Venue in Creekside. Costumes are encouraged.
There is no admission fee, but attendees are asked to RSVP to [email protected] or by calling 1-817-266-6833.
To learn more about the Rock Haus Foundation or about sponsoring dance parties, go to www.rockhausfoundation.org.