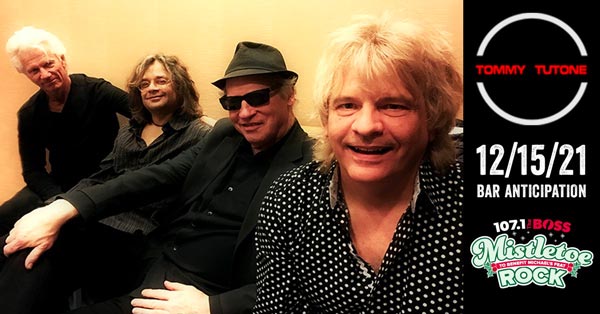 Mistletoe Rock's 4th Annual Radiothon will take place December 15-17
NEW | CHARACTERISTICS | OVERVIEW | EVENTS
originally published: 12/01/2021
Classic Rock Communication Press WWZY-WBHX (107.1 THE BOSS) launches its 4th 'Radiothon Rock Gui' on Wednesday December 15th with a special concert featuring Tommy Tutone at Helm anticipation in Belmar. The concert starts at 7:00 p.m. Admission is $ 10 and all profits will be donated Michel's feat, an organization dedicated to providing comfort to parents caring for critically ill newborns.
The station will then broadcast live and collect donations at CentraState. Live broadcast center at Central Court in the Freehold Raceway Shopping Center, Thursday December 16 and until 10:00 a.m. on Friday December 17. Donations can also be done online.
"It's so special to celebrate the season again by helping families in need who have been through so much, and having Tommy Tutone to present the classics live for our pre-Radiothon party will be amazing!" said Robby Bridges, program director. "Now if only I could remember which number to call to reach him … hmm 86 … 5 … something."
The Michael Gerard Puharic Memorial Fund, Inc, also known as "Michael's Feat" is a local, 501c3 nonprofit organization dedicated to providing comfort and lightening the burden for parents who carry and care for severely newborn babies. sick.
Michael's Feat was created and named in memory of Michael Gerard Puharic, born July 29, 2000 to Adam and Dana Puharic, and unfortunately only lived for 83 hours due to a chromosomal disorder known as Down's syndrome. While he wasn't with us for long, Michael's legacy lives on and continues to inspire hope. His courageous fight and the love and care he showed in people remains an incredible accomplishment. This is Michael's "feat".
Advertise with New Jersey Stage for $ 50 to $ 100 per month, click here for more information
---
For the past 21 years, Michael's Feat has provided aid, comfort and support to families in Monmouth and Ocean County who are carrying and caring for critically ill newborns.
They provide material goods and financial and emotional support to these families throughout the NICU process, allowing them to focus on what is most important – caring for their child.
They are equipping our local Monmouth & Ocean County hospitals with life-saving technology, allowing families to receive care close to their homes.
They also operate a "room away from home" family room at the University of Jersey Shore Medical Center and CentraState Medical Center… AND a third family room is currently under construction at the Community Medical Center.
Monmouth Medical Center also houses their master suite and works with a dedicated Michael's Feat liaison to support families at Philadelphia Children's Hospital as well.
This holiday season, join our fight and help your neighbors and their children.