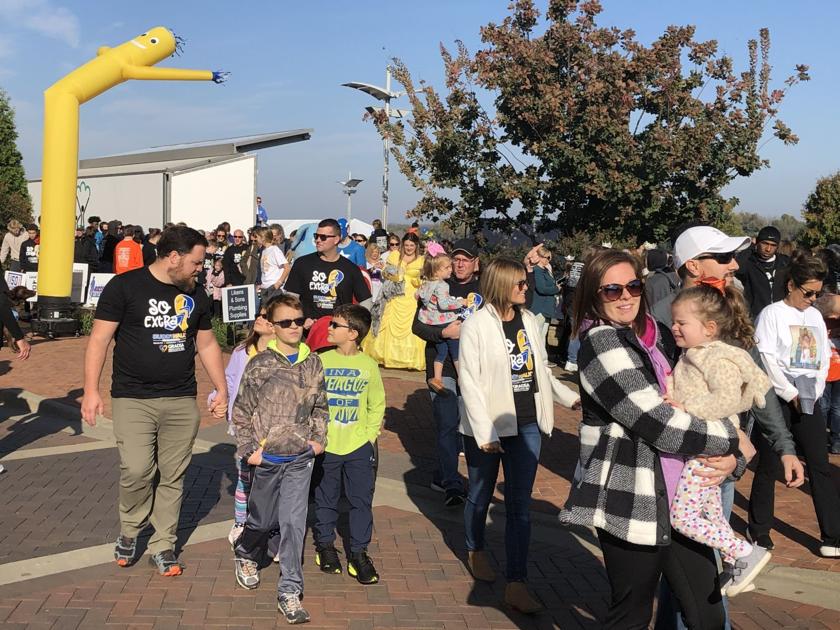 GRADSA Buddy Walk returns to the riverside | New
[ad_1]
It was a day of celebration as crowds gathered in Owensboro's McConnell Square for the 23rd Annual Pals Walk on Saturday hosted by the Green River Area Down Syndrome Association.
The event serves as the primary fundraiser for the nonprofit organization, which strives to provide support and awareness to individuals and families affected by Down syndrome.
Richard and Kay Peach of the Preston's Pack team said their 7-year-old son, Preston, has Down syndrome, and GRADSA helped them through their initial diagnosis.
"So many times when parents are diagnosed with this, they are alone," said Kay Peach. "They don't know anyone with Down syndrome, they don't know other families, and you're just kind of alone dealing with this and it's a traumatic time."
Richard Peach said GRADSA has helped introduce the couple to other families who have a child with Down syndrome and imparted some knowledge to them.
"We've kind of passed this tradition on to some of our friends," he said. "After Preston was a few years old, it was the same situation. They contacted us and we were able to pass on what we knew to them.
The 2021 edition of the GRADSA Buddy Walk marks a return to the traditional in-person event format after having to switch to a virtual format due to the COVID-19 pandemic last year. GRADSA set a goal of raising $ 80,000 through the Buddy Walk and started the day with a total of $ 84,783.
The University of Brescia baseball and softball teams were on hand to volunteer for the event, which softball coach Traci Smith said is an important part of athletics at the school.
"The softball team has been doing this for about 10 years, but all of our sports teams in Brescia like to do community service and we like to do it two or three times a year if we can, so we're always looking for something to do." , said Smith.
Smith said that while the pandemic made it difficult to find volunteer opportunities for the team, she and baseball coach John Herbig believed the Buddy Walk was something the two teams could do together.
General Manager Tiffany Thrash said the Buddy Walk GRADSA not only was the biggest fundraiser, but also attracted its biggest crowd, usually bringing in around 3,000 people.
The event included an appearance by Disney Princess Belle, a balloon animal artist, as well as a host of entertainment and games.
Heather Blair said her family got to know GRADSA after her grandson, Austin, was diagnosed with Down's syndrome at birth.
"We love the support from the community and being able to feel like he has a sea of ​​people like him, and just being able to have this great support for Austin," she said.
Blair said she believes it is important for members of the Daviess County community to see that there are people living with Down syndrome in their community.
"I think it's important for the community as a whole to see that there are many people with Down syndrome and that they're no different from other kids," Blair said. "We want them to feel included and have special qualities, but they are unique in themselves, not just because they have been diagnosed with Down's syndrome."
For more information on GRADSA or the annual Buddy Walk, visit www.gradsa.org.
[ad_2]