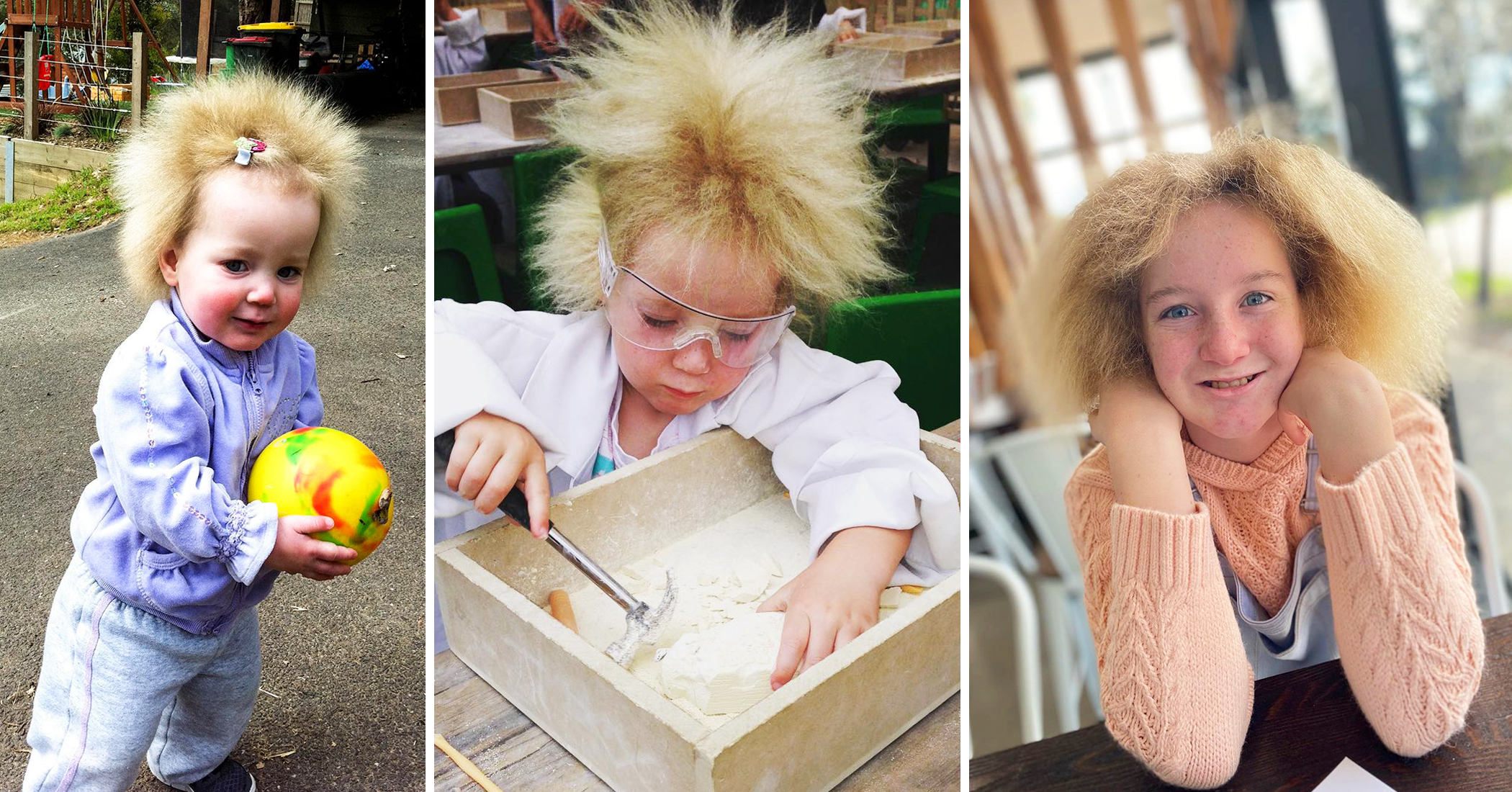 Girl With '1 in a Million' Hair Disorder Embraces Resilience and Inspires Others
12-year-old Shilah Calvert from Melbourne, Australia has attention-grabbing hair – it's straight out of her head. It's not uncommon for people to stop and stare, do a double take, or even attempt to take pictures of Shilah.
While her striking blonde hair, the result of a genetic mutation, has caused her to often be the subject of unwanted attention or hurtful remarks, it perfectly suits Shilah's bright character and personality.
"We were told to have her hair, it's like 1 in a million [chance] and even more to have full coverage," said her mother, Celeste Calvert-Yin.
"She's just perfect the way she is and that's truly something special. Her personality, passions and strengths are unlike anyone else in our family, and we truly believe she's been blessed with all of those things. attributes, including her amazing hair, for a reason.
Blessings as they are, Shilah's unique attributes have always presented her with wholesome challenges.
When she was born on April 22, 2010, Shilah was a perfectly healthy baby and had hair like most infants. In fact, it was exactly like his brother's. And then, like most babies, it fell out when she was about 3 months old. Growing back, however, her hair had changed significantly.
"It just seemed to stick straight out and was so, so super fluffy. As the hair grew, it just didn't seem to settle and, in fact, stayed upright," her mother recalled.
Her parents assumed that Shilah's blonde glow would wear off at some point, but as the months passed and her hair showed no signs of taming, the family accepted the reality that something was definitely different at this subject – although they weren't sure of the cause.
Next comes the parade of spectators, which the whole family will have to get used to.
As a young child, Shilah's conspicuous blond hair drew comments, some kind and some cruel. His family got used to hearing all kinds of things; the most common remark being if their baby had stuck their finger in an electrical outlet.
"The comments were sometimes the most hurtful. I know people sometimes say what they think without any filters, but hearing jokes about your child that were sometimes cruel was rough," Calvert-Yin said.
It was then that Shilah's parents realized that she would need powerful tools in her tool belt.
"It was around that time and there we decided that Shilah's greatest tool will have to be her resilience and that we will teach her self-love. And so the journey began," said said his mother.
Early in her journey, when she was around 5 years old, Shilah underwent dental surgery. The pediatric dentist noticed that her teeth were fragile and her enamel was weak. Then, at the hospital, the anesthetist who worked with Shilah had just experienced Uncombable Hair Syndrome (UHS) and had been researching the genetics that contribute to the disease.
Explaining that UHS is caused by a genetic mutation, the anesthesiologist asked permission to examine Shilah further. The results showed that although her hair and teeth were affected, the health of her bones and nails were not affected. Finally, the discomfort of wondering about the unknown has subsided.
"I was relieved, excited, and so overwhelmed by this information that I immediately phoned my mom and told her I had an answer to Shilah's hair," Calvert-Yin recalled.
Today, true to her UHS diagnosis, Shilah's hair remains a challenge. It struggles with severe breakage, so much so that the lower layers are only about 1-2 centimeters long. Just when she thinks he's going to grow up, he pulls away again. And yet, Shilah makes the most of it.
"All she ever wanted was long hair, but these days she's happy to be her and get pretty creative with some of her hairstyles," her mom said.
And as Shilah's responsiveness matures, her hair still elicits varying reactions from onlookers.
"Shilah learned to react and ignore, but it's been an up and down journey," Calvert-Yin explained. "When she was younger she was really savvy and quick-witted, but as she got a bit older she became a bit more shy again, but that seems to be due to her experiences at school and some of the bullying. who exist.
Fortunately, Shilah has the support of her family and community as she grows and approaches self-awareness. Recently, Shilah's parents launched a Instagram account on her behalf, to help her connect with others and strengthen her with support.
His mother describes it as "a small online community" of those who live with, or know someone who lives with, the condition. "It's amazing how many people have reached out and reached out to Shilah to share their personal stories and photos," she said.
Calvert-Yin adds that the social media account, which will be managed by Shilah when she's older, has helped Shilah give by helping others with her stories – and "maybe one day it will make a real difference in someone's life."
"The connections she has with others around the world are truly amazing and we are so grateful for that," the mother said.
Calvert-Yin says the most important job for parents of remarkable children like Shilah is to teach them well.
"Teach them to love themselves, teach them to be resilient, but above all, teach them to be kind no matter what," she said. "Whatever makes you different or stands out in a crowd, love it, embrace it and rock it!!"
Share your stories with us at [email protected], and keep getting your daily dose of inspiration by signing up for the Inspired newsletter at: https://www.theepochtimes.com/newsletter