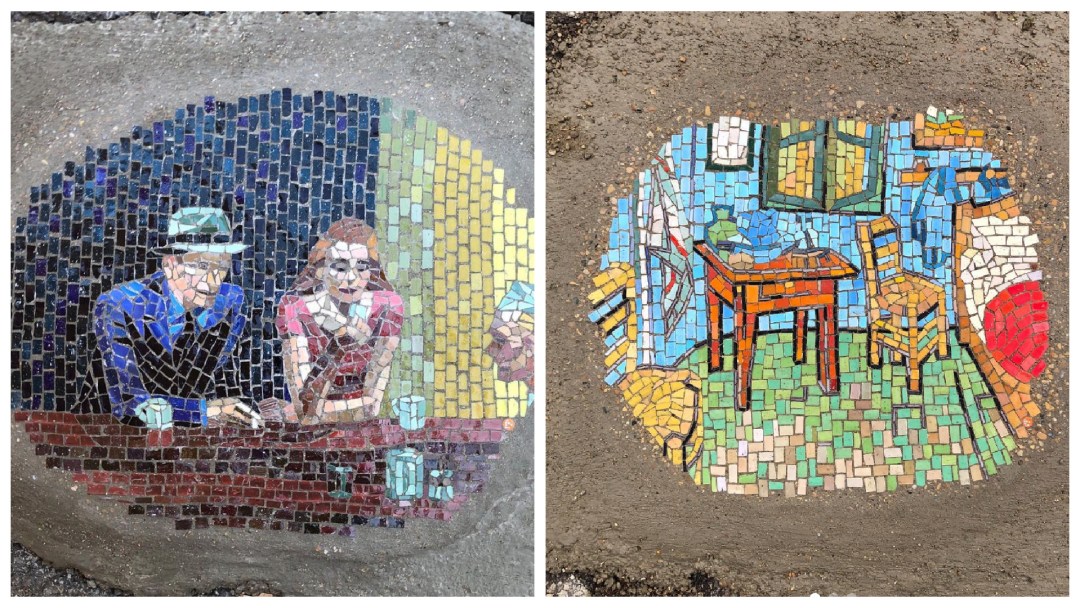 Famous Chicago Paintings Become Pothole Mosaics Thanks to Artist Jim Bachor
CHICAGO – You don't have to visit a museum to see some of the world's most famous paintings – you can spot them in Chicago's potholes.
Local mosaicist Jim Bachor is known for filling potholes with small, colorful mosaics. His latest street art series is called "Master pieces" and recreates famous works of art that people would normally see at the Art Institute of Chicago.
"There's kind of an interesting juxtaposition there, of bringing masterpieces from a museum into the reviled pothole," Bachor said. "It was kind of funny."
The series includes four works, each inspired by a famous painting: The Bedroom by Van Gogh, American Gothic by Grant Wood, Chairman Mao by Andy Warhol and Nighthawks by Edward Hopper.
Bachor chose pieces "relatively recognizable to the general public" and colorful enough to stand out to passers-by.
Each mosaic is in a different part of the city: Green and Randolph Streets in West Loop, Estes and Glenwood Avenues in Rogers Park, the 2000 block of West Crystal Street in Wicker Park, and the 4100 block of North Kostner Avenue at Old Irving Park.
Choosing a pothole can be tricky, Bachor said. He used to find a pothole and make a mosaic to fit it, but by the time he was ready to install the art, the pothole would be filled in, he said. said.
"I'm completely at the mercy of potholes," Bachor said. "Finding good potholes is a pain in the ass. … I can't willy-nilly put them anywhere. I have to find stable potholes where the art will last a long time.
The "Master pieces" mosaics reflect Bachor's dry humor in emphasizing the juxtaposition between high art and high art, he says.
"Street art is street art, and it's not necessarily considered terrible art," he said. "But my art takes a ton of time."
Bachor said that if he sold his pieces from his studio as if they were works of art, he would charge around $3,500 per piece.
"So these are literally $3,500 works of art stuck in the ground," he said.
Bachor said he contacted the Art Institute of Chicago about the series — jokingly, he'd like to get funding — but he didn't hear back.
Like much of Bachor's work, the later mosaics bring something pretty to a place that might otherwise be considered ugly.
"Potholes are not attractive; everyone hates them," Bachor said. "And then I'll juxtapose them with maybe flowers because everyone loves flowers, or junk food because everyone loves junk food."
Bachor said he hopes his art will resonate with people and bring "unexpected smiles".
Bachor also hides a goody bag — filled with goodies including prints, magnets, keychains and coupons for his online store — near each piece he creates. The bags usually disappear within 30 minutes of completing the installation, he said.
"It's just a bit of joy that you didn't expect in a ridiculous space," he said.
Bachor's art is usually grounded in the ground, but you can purchase prints, merchandise, and more online.
Listen to "It's Alright: A Block Club Chicago Podcast":