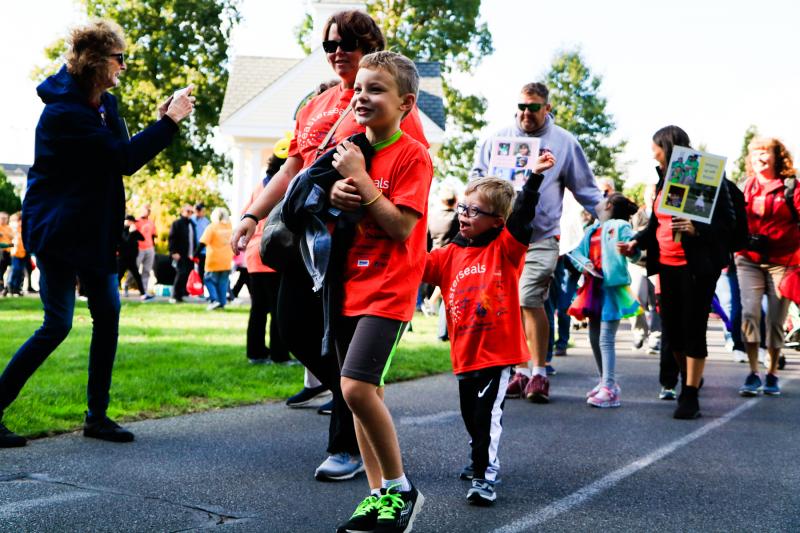 Easterseals Walk With Me raises funds for Sussex County
Wearing an oversized orange Easterseals t-shirt, James Lewis smiled and walked through Baywood Greens Golf Course with his family for the annual Walk With Me 5K. James was diagnosed with Down syndrome soon after he was born. Now 7 years old, he was an ambassador for Walk With Me 5K on October 17th. The event included games, music, and even a live baby kangaroo.
Every year, Walk With Me raises funds that provide services to children and adults in the Sussex County community, according to Linda Forte, an event organizer.
James became involved in the Easterseals Children's Therapy Program shortly after his diagnosis. It offers physiotherapy, speech therapy and occupational therapy services.
Easterseals began over 100 years ago in response to the polio crisis, which has widely affected children. Since then, Easterseals has extended its services to cover the entire lifespan. Some of these services include vocational training and adult day care programs for the elderly.
"Anyone who needs help can call us and we can help them solve what they need. If we don't have what they need, we know who has it, "Forte said.
For Tracy Lewis, James' mother, Easterseals was her lifeline in helping her son grow and flourish. "Easterseals provides lifelong skills, so that children and adults can be truly included in their community and eventually get a job where they can give back to that community," she said.
For Forte, it's stories like James's that motivate his passion for the Easterseals mission. "Once a mother came to me and told me that when her son was 2 he couldn't walk and had all kinds of problems. No doctor could help. So she took her son to Eastseals once a week for a year and a half. Today, he is the goaltender for his college lacrosse team.
The event started in 2013 and has since grown. This year, he raised over $ 55,000, which will go directly to the community.