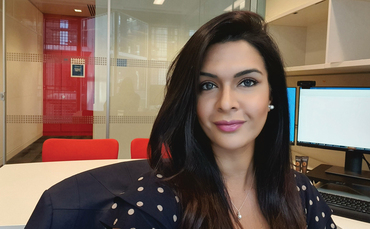 Drive change through powerful conversations
It also shed light on the deep inequalities that exist in society across economic, gender and racial boundaries.
The tragic death of George Floyd and the Black Lives Matter movement has prompted conversations about diversity, equity and inclusion (DCI) to return to the priority list in organizations.
Iniquity has also finally taken center stage in global political debates. "Leave no one behind" is the rallying cry of the 2030 Agenda for Sustainable Development.
While the world stands ready to act more, the challenges are not new.
Martin Luther King Jr.'s powerful statement reminds us that "Our lives begin to end the day we become silent about the things that matter."
You have to give people a platform to have their own voice and to express themselves.
The theme for Black History Month 2021 is "Proud To Be".
I am incredibly proud to be an Indian woman, born and raised in Kenya, now living in London, working in the asset management industry.
Diversity is something I have had the privilege of being exposed to from an early age.
But inclusion is another matter.
Diversity doesn't equal inclusion, a sense of belonging – being able to bring your real, authentic self into every conversation and interaction.
Although we are making progress, there is still a lack of diversity in the financial industry.
Throughout my career, I have suffered from impostor syndrome, micro-aggressions and stereotypes.
It was a journey to feel good about myself, with my identity and to find my voice.
The power of dialogue
Many people want to be engaged and have a voice, but feel uncomfortable, fearful and vulnerable during difficult conversations.
Before we see any real change, we need to familiarize ourselves with these uncomfortable dialogues.
If we want a different future, we need to listen to and learn from each other – resilience, curiosity and self-awareness can open the door to genuine dialogue.
Employee networks or corporate resource groups (BRGs) can be a driving force in supporting employees, raising awareness and driving change.
They provide an opportunity to encourage individuals to have conversations about race and ethnicity in a safe space and to share information about their unique experiences.
These differences should be recognized, appreciated, respected and celebrated, and not seen as matters to be avoided.
It is by creating a forum for dialogue that you can bring about a change in mindset, attitude and behavior.
Creating an environment in which to oppose racism and demonstrate conscious inclusion is not just for minority groups.
We need to create a society that works for all and having the support of allies is vital.
We all have a role to play, whether it's being open-minded, speaking out when things aren't right or wrong, or supporting progress.
I am part of the MOSAIC BRG at T. Rowe Price, which celebrates cultural diversity and coordinates sharing and learning experiences.
Initiatives include organizing diversity dialogues for ethnically diverse talent and allies to discuss racial equity issues, as well as organizing mentoring circles.
Fostering a sense of community and connection creates a culture of collaboration.
It allows you to share ideas from different angles, challenge assumptions and provide a constructive channel of communication.
Economic and commercial imperative
Social justice is not only a moral imperative, it is also in our economic interest.
The IMF has pointed out that racism in the United States is expected to cost the US economy between $ 1 billion and $ 1.5 billion in lost consumption and investment between 2019 and 2028.
By closing the wealth gap, U.S. GDP could grow 4-6% by 2028.
the 2018 McKinsey study, Deliver through diversity, found that companies with the most ethnically diverse management teams had 43% higher profits than their national peers.
Diversity of thinking leads to better company results at the bottom line.
In today's dynamic environment, having a diverse and inclusive workforce is a business and cultural imperative.
At T. Rowe Price, we know that diversity makes us a better investment firm and helps us attract and retain the best talent, make better decisions and meet the needs of our clients.
The long-term success of our clients is made possible by the diversity of backgrounds, perspectives, talents and experiences of our employees.
To be successful, DCI's priorities must be explicitly defined and aligned with a company's mission, values ​​and strategy.
In the words of civil rights leader John Lewis, "if not us, then who? If not now, then when? ".
Change isn't top-down, it's about bringing together resources.
It takes time, and there is clearly a lot of work to be done, but the actions of individuals can create a lot of ripples.
Now is the time to have powerful conversations to drive change and maintain momentum.
Ritu Vohora is Capital Markets Specialist and MOSAICQUE Committee Member at T. Rowe Price