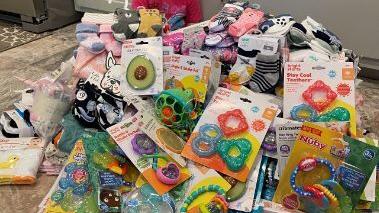 child with Down's syndrome will be featured on NYC JumboTron | Reporting
Three-year-old Harper Fightmaster is surrounded by a loving family, but on September 18 she will receive huge attention.
Harper, who suffers from a form of Down's syndrome, will be featured on Saturday, September 18, in a video slideshow presented on the two JumboTron TV screens in Times Square in New York City. Harper was one of 500 children and adults with Down's syndrome selected from a pool of 2,100 applicants to participate in the one-day presentation, said Harper's mother, Jessica.
The presentation is hosted by the National Down Syndrome Society and is part of a celebration to kick off Down Syndrome Awareness Month, which takes place in October. He is also a member of the New York Buddy Walk, which raises funds for Down syndrome research and awareness programs. This year's Buddy Walk is slated for September 18, but is taking place virtually due to COVID-19 concerns, according to the NDSS website.
Harper, who lives in Elizabeth City, suffers from one of the most common forms of Down syndrome, trisomy 21, her mother said.
Jessica said Harper's photo was selected after not being chosen for last year's JumboTron event.
"We submitted a different photo this year," the mother said.
In August, Jessica and her husband, Chris, received notice from the National Down Syndrome Society that Harper's photo had been selected. According to the company, the slideshow will start at 9:30 a.m. and photos will be posted alphabetically by participants' last names. Harper's family will be notified by September 18 of the approximate time his photo will appear.
Jessica said Harper may be a little too young to realize the magnitude of her photo displayed on two massive digital screens in the downtown area of ​​one of the world's largest cities. That's not to say that she doesn't mind having her picture taken, according to her mother.
"She just likes to see herself on the phone," Jessica said.
When Harper is a little older, she can look back and appreciate the photo used in the Times Square presentation.
"I think she will be delighted to see him," her mother said.
Harper attends the Emmanuel Baptist Church daycare. When she was just 6 months old, she underwent open heart surgery, which was performed at the King's Daughters' Children's Hospital in Norfolk, Virginia. The operation was carried out on October 1.
The September 18 presentation will be broadcast live on the NDSS Facebook page. Jessica said it would probably only be her and her husband watching. Instead of the family having a viewing party that day, they'll likely wait until October 1 to celebrate what the family calls Harper's "heart-versary".
"Our family comes together to celebrate her life," said Jessica. "We're just proud that she's with us."