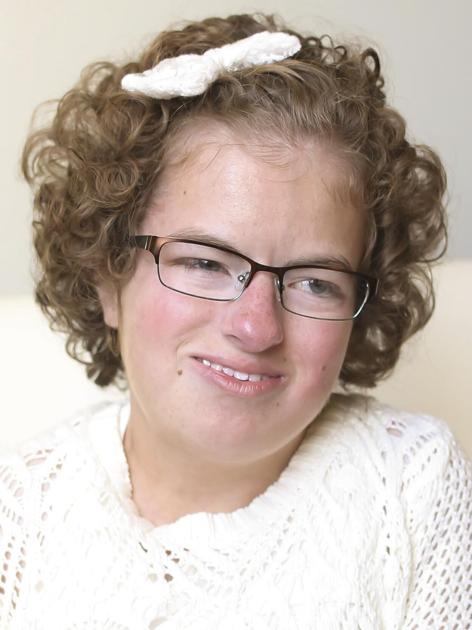 Callie Marie Cox was born to Jeff and Heidi Cox on September 5, 1995 in LaCrosse, Wisconsin. Two weeks before her birth, Jeff and Heidi learned their daughter would be born with a chromosomal disease known as Down's syndrome. Not knowing if they would only have hours or days to spend with her, they were determined. to enjoy and celebrate every minute. She passed away at home on Monday, September 20, 2021. What might have been 26 minutes turned into 26 years of a blessed and beautiful life.
Callie attended Cambridge-Isanti Schools from ages 3 to 21 and graduated with the Class of 2017. Throughout these years she has thrived under the care of incredible teachers and staff who have her loved and cherished her. After high school, Callie attended a day program at Industries, Inc. where she continued to be lovingly cared for and appreciated.
As the Cox family grows to include four more children, their gratitude also grows that the Lord has chosen to entrust them with this precious child. Everyone who knew Callie loved him. Her smile was a daytime brightener, and for those who were patient enough to wait for one, she gave a hug like no other. Callie found joy in simple things like playing with a ball, tickling her face with a pom pom, feeling the wind in her hair, or just being held. She also enjoyed camping trips, long runs with her sister, bike rides, family movie nights, adapted bowling, pontoon rides or whatever she did with her family. Callie was easy to love, returned her love freely, and was a beautiful reflection of the love of Christ. The impact Callie has had on her family and friends is immeasurable. She changed the world forever without saying a single word.
Callie is survived by her parents Jeff and Heidi; siblings Nate (Kali) Cox of Columbia Heights and Elaina, Ryan and Emily Cox of Cambridge; grandparents Larry and Lois Gustafson of Cambridge, Eugene and Karen Cox of Chanhassen; aunts and uncles Greta Gustafson of Eagan, Karrn (James) Bales of Cambridge, Shelly (Matt) Nelson of Farmington, Jeannie (Josh) Heitzman of Shakopee; cousins ​​Brianna and Brandan Nelson and Jeremiah, Joshua, Noah, Micah and Elijah Bales; nephew Judah Cox and many other relatives and friends.
The funeral was held on Saturday, September 25, 2021 at 11 a.m. at the North Isanti Baptist Church in Cambridge.
Condolences on www.carlsonlillemoen.com. Arrangements by Carlson-Lillemoen Funeral and Cremation Services of Cambridge, 763-689-2244.