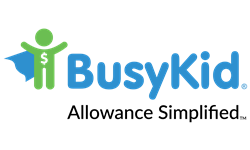 BusyKid adds charities to help teach kids about philanthropy
As the first app for kids to earn, save, share, spend, and invest real allowance by completing weekly chores and activities, BusyKid has already helped their kids donate over $125,000.

PHOENIX (PRWEB)
October 12, 2022
BusyKid believes that to be financially successful in life, children must learn from an early age how to earn, save, share, spend and invest. This balanced financial approach does not come naturally and is not taught in schools. That's why the BusyKid app was designed to help future generations develop an understanding of money management, as well as create solid routines to better manage money wisely.
BusyKid has several unique features to help give kids a real-life experience with money, but one of the most popular is allowing them to choose from 58 national or regional charities listed to donate a portion of the money. money earned. In fact, the company is closing in on the 60 charities mark by adding Dare to Dream Ranch, Down Syndrome Diagnosis Network, Hoosier Burn Camp, Jovante Woods Foundation, and the Wisconsin Humane Society. As the first app for kids to earn, save, share, spend, and invest real allowance by completing weekly chores and activities, BusyKid has already helped their kids donate over $125,000.
"There's a lot of uncertainty in the world right now, but that doesn't take away from the fact that there are nonprofits working hard to make a difference that really need support." , says Gregg Murset, CEO of BusyKid. "We made sharing (donating) a big part of our app because we believe it's part of a balanced financial life and that kids need to learn to be philanthropists. It was amazing to see the weekly donations that children do through our app. Some even send everything they earn in a week. Now that's getting involved for a cause.
Parents are encouraged to contact the company ([email protected]) to add any nonprofits to the platform. Here are the descriptions of the latest additions:
Dare to Dream Ranch – Foster, RI

Dream Ranch offers alternative therapy programs for service members, veterans, and their dependents with emotional issues such as PTSD, anxiety, depression, military sexual trauma, mild traumatic brain injury, and recovery from trauma. Stroke. We offer equine therapies and individual programs, full day retreats, 5 day retreats and children's camps. There is NO CHARGE to customers, so individual donations, grants, and sponsors provide support.
Down Syndrome Diagnostic Network (DSDN) – Stillwater, MN

The Down Syndrome Diagnosis Network's mission is to connect, support, and provide accurate information to parents – and the healthcare professionals who serve them – from the time of diagnosis through age 3, while promoting the possibility of lifetime connections. Our vision is that every Down syndrome diagnosis is delivered in an unbiased, evidence-based and positive way every time and that families can quickly find meaningful connections.
Hoosier Burn Camp – W Lafayette, Lafayette, IN

Hoosier Burn Camp is committed to providing life-changing experiences for young people who have experienced the physical and emotional trauma associated with a severe burn. Annual summer camp and monthly events create experiences for burn survivors where they can be one of the children in a safe and supportive environment.
Jovante Woods Foundation – Cincinnati, OH

The Jovante Woods Foundation was started by Ickey and Chandra Woods after the loss of their 16-year-old son (Jovante) to complications from an asthma attack. The organization's goal is to prevent the tragic loss of a loved one due to an asthma attack or lack of education during an asthma attack. After losing Jovante and realizing there wasn't enough advocacy or self-education for asthma as the number one chronic disease in children that takes 11 lives a day, we took action. !
Wisconsin Humane Society. – Milwaukee, Ozuke, Racing, Green Bay, Door County

The Wisconsin Humane Society has been saving animal lives for over 140 years. Our mission is to make a difference for animals and the people who love them. WHS is an independent, non-profit organization and operates animal shelters in Milwaukee, Ozaukee, Racine, Door, and Brown counties, as well as a spaying clinic in West Allis. WHS serves 40,000 animals annually and receives no general government funding.
About BusyKid

BusyKid is available for all mobile devices and is easy to use, highly secure, and gives kids a hands-on experience of managing real money. Kids learn important basic financial principles they won't learn in school through the app that provides real "teachable moments" for kids. It's perfect for kids ages 5-17 and for just $3.99/month. A whole family can access the full app, five BusyKid Visa® spending cards and no fees for investment transactions. The card allows children to spend their allowance in stores or online with parents approving the funds added to the card.
The BusyKid Spend Card is issued by MVB Bank, Inc., Member FDIC, pursuant to a license from Visa® USA Inc. All cardholder funds are FDIC insured pursuant to applicable FDIC Terms and Conditions. For more information on the card's terms and conditions, including the VISA® Zero Liability Policy, click here. Cliq® is ISO/MSP registered from MVB Bank, Inc.
Share the article on social networks or by e-mail: