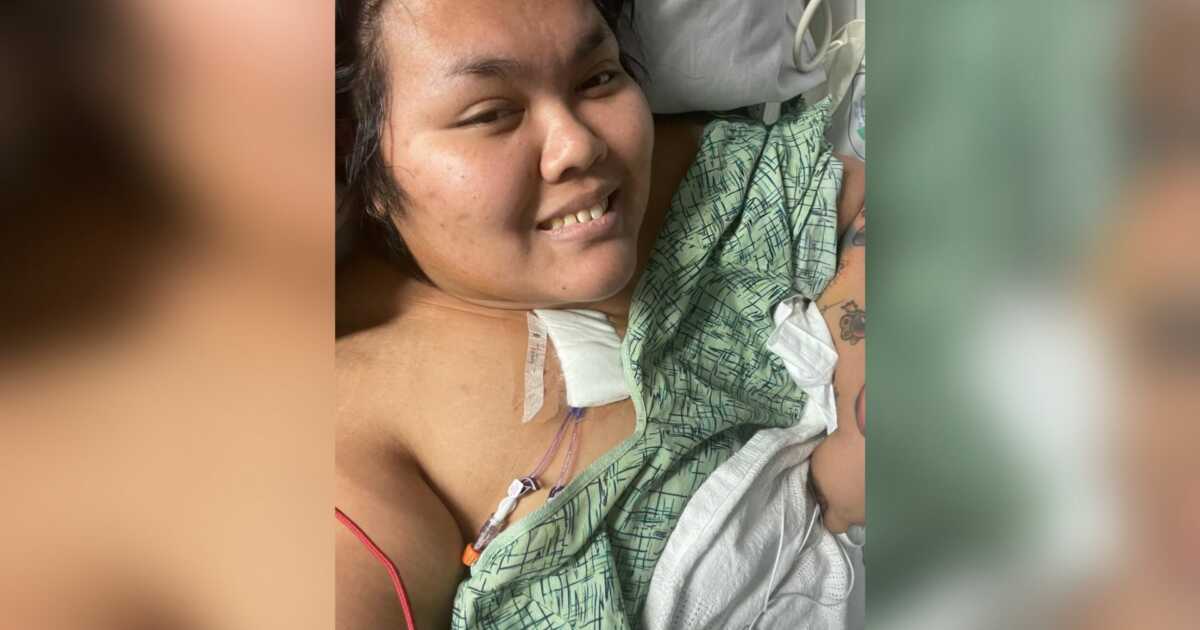 Adoptee Shares Journey of Traumatic Diagnosis of Rare Autoimmune Disease – Love What Matters
Live the disease early
"I was born in Cambodia in 1999, in a region where many faced extreme poverty and lack of medical and financial assistance.
My birth parents gave me up for adoption when I was six months old, and I was adopted when I was 1 year old. I was adopted by a German-American family and brought to the United States in 2000. I remember my mother always telling me that I was an active toddler, and I would run around like no one was there. 'affair. I ran so much that I got tired, then I took very long naps on the shoulder of my uncle or my grandfather. I didn't remember those years, but I remembered the beginning of elementary school. My mother enrolled me in my neighborhood school and wanted me to join the women's soccer team.
I joined in the fall and remember being very excited about playing. But on the first day of testing, I still felt like I was running behind everyone else. Somehow I couldn't keep up; my stamina was much lower and my stamina was very low.
My mom took me to my annual exam and asked all the standard questions, but never paid any attention to it, and frankly, neither did the doctors. I kept playing and I kept pushing myself. I thought maybe I just needed to train or move more. Maybe I just needed to do more. 'Why couldn't I run without feeling so tired or weak? Why did every move feel like my body just wanted to stop? I questioned him countless times but kept him inside.
It started to affect my mobility outside of sports when I was walking up stairs to class or walking down long hallways. Or participate in physical education Even simple things like bending over or getting up quickly became difficult. I stopped the sport at the age of ten and I stopped running. By then, I had lost a lot of stamina and stamina, but I was also facing a lot of mental exhaustion from bullying at school.
Depression, misdiagnoses and death
During my pre-teen years, I spent time at weight loss camp and boarding school and broke my ankle which required me to use a wheelchair for about a year or so. At the age of 14, I decided to start using a wheelchair to help me with my mobility issues. My mother, who had used a wheelchair all my life due to multiple sclerosis, was very worried and completely against it, due to her internalized ableism.
When I was 15, I was misdiagnosed with conversion disorder and sent to a treatment center. I've been through several different traumas and different types of abuse that I'm not free to talk about right now, but I now have complex medical PTSD.
My mother died when I was 17 and I was placed in foster care. I found out that my wheelchairs had been sold because they weren't considered a medical necessity. I struggled for the next two years with my mobility. During this time I met a man, got into a relationship, moved on my own, dropped out of high school and had a short-lived engagement with said man…who didn't s didn't end very well. I was extremely depressed and my illness was getting worse. I stopped taking care of myself. I stopped worrying about waking up in the morning or falling asleep at night. I wanted it all to end. I felt so alone, like my life wasn't meant to be lived.
I felt like not only was I not ready to be alone, but how isolated living with illness was. I realized that I couldn't take care of myself. Just brushing my teeth or taking a shower felt like climbing a high hill.
Transform my life
It wasn't until I met my husband, Adam, that my life began to change. We met in 2018 on a disabled dating group on Facebook, when I was 19 and he was 36. He's also disabled, due to a spinal cord injury in 1996. We clicked instantly, and the first night we spoke on the phone, we spent five hours together. It was perfect. Adam, who lived in Sacramento, California, moved across the country to live with me in Virginia. And we've been together ever since.
When we first lived together, we shared my small studio (which could barely fit me). Little by little, I would let Adam into my life. I would let him take me to doctor's appointments. I would let him help me find doctors while helping him find doctors and medical care for himself, since he had just moved. In a way, we helped each other. It was very healing for me and very healing for him.
When a doctor wasn't working, we moped for a minute, then looked around and found others. We kept looking, but never gave up. It was sure that it was a lot on our shoulders. Mostly because I was getting weaker, quickly with no response.
Eventually I had to cheer myself up and get over some of my trauma, and I asked my family if they wanted to buy me an electric wheelchair – I was scared of what they would say, but I knew that I needed. I held on and got what I needed. My family listened to my needs and has been by my side ever since. After being in this particular wheelchair, I needed a new wheelchair because my needs were changing. I received my wheelchair (which I currently sit in as I type this) last year. Adam helped me defend it, and I paid for it entirely through insurance!
fight for me
I felt empowered when I defended myself! I did it. For the first time, I felt so heard and I felt like I could do anything. And so I pushed myself further. I decided to be my advocate to get a diagnosis.
The first diagnosis clearly on my radar was myalgic encephalomyelitis. Sometimes called chronic fatigue syndrome, but it's not usually the same thing. I'm not sure what exactly pushed my mind towards this, but my body reacted as if the symptoms very likely matched. I experienced many symptoms and it seemed likely as there was no real test for it.
Every MRI, CAT, EMG, etc., I had ever taken had been inconclusive or considered "unremarkable". But the only thing that was there was my long list of signs and symptoms. Also, a big indicator that I did indeed have some sort of neurological impairment – ​​the pinnacle (in my opinion), a neurogenic bladder disorder. A neurogenic bladder disorder is a disorder affecting the functionality of the ureters in the bladder, caused either by traumatic nerve injury or by diseases affecting the central nervous system.
When ME/CFS no longer seemed to make sense to my doctors and seemed to make much less sense to my husband and myself, I felt lost again. I didn't know where to go or what to do. I thought I understood it. I thought I could rest, relax, and stop fighting to finally know what was happening to me. So that the doctors finally see me, hear me and feel me. But God, even with ME they neglected me every time I spoke. The idea was that somehow I was just overweight or just tired, and that's why I was using a wheelchair.
Diagnosed with myasthenia gravis
I don't know exactly what happened to make all this change, but I leave that to my spirituality. I'm so grateful for this next part…
I was visiting with my ophthalmologist who I had been seeing for many years due to spina bifida occulta related hydrocephalus. I told him about my ptosis (droopy eyelid) which I have been experiencing for several years, and it had been documented. She looked at me and said, "I think you have myasthenia gravis.
Several of my friends had told me about it years before they thought I had it. I just denied it because I didn't think anyone would listen to me, but here was a doctor giving me his medical opinion. She looked me up and down, did a full physical and said, 'Check your labs. I'm sure you have MG.'
Enough said Doc. I'll take your word for it. Since then I have been diagnosed with generalized myasthenia gravis.
I live each day with gratitude because I know that my journey to get here was very long. I have no idea how it is for anyone else. I've been through things I wish I never had to, and I wouldn't wish that on anyone. I will say if you find yourself in the shadow of fear and loneliness, and you are afraid to speak up, I am here to tell you to scream. Scream, let those emotions be heard and let yourself be seen because that's the only way to get what you need. They can't help you if you don't help yourself.
If you or someone else is dealing with an undiagnosed diagnosis or has suffered trauma related to a misdiagnosis. Or you just need a friend. I am your sister. I'm here with you. I love you. Call me anytime, and I'll take you home.
This story was submitted to Love What Matters by Miia Shapiro from Alexandria, Virginia. You can follow his journey on Instagram. Submit your own story here and make sure to subscribe to our free email newsletter for our top stories.
Read more stories like this here:
"I hadn't slept or eaten a meal in months. "I can't take this pain anymore." : A chronic disease warrior shares his journey to diagnosis and cure
"But you don't look sick. It's scary and disappointing how many people have a story like this. ': MS Warrior launches support organization for people with chronic conditions
5 things to NEVER say to someone with a chronic illness
5 key tips to help you thrive with a chronic illness
Do you know anyone who could benefit from this story?TO SHARE this story on Facebook to let others know that a supportive community is available.